Point Pickup Case Study
Table of Contents
Building platform and technology infrastructure, driving demand and establishing thought leadership
the next generation of delivery app and logistics technology.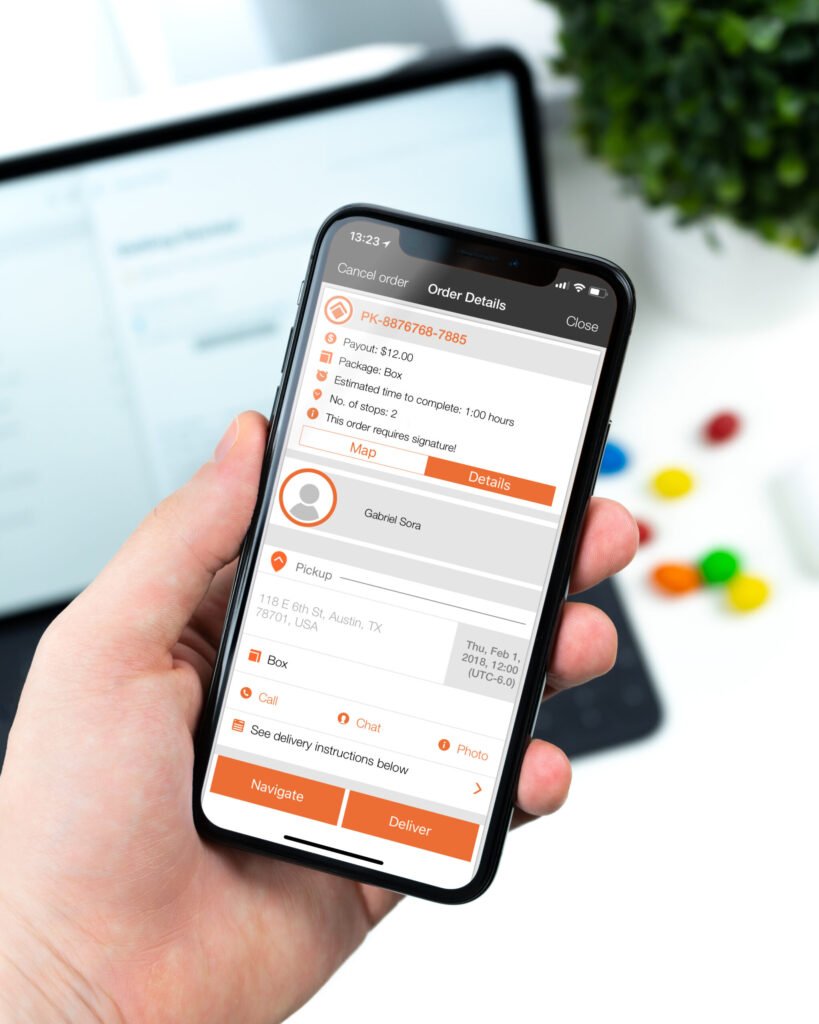 See the Point Pickup Case Study below
---
Situation
As the US On Demand Economy becomes more pervasive, expectations are rapidly changing, turning real-time delivery of products and services from a pipedream into the norm. Demand is moving from wanting items "quickly" to needing them "now." Point Pickup Mobile Delivery App has been the first on-demand option that guarantees scheduled, same-day deliveries anywhere, including the largely untapped and rapidly growing suburban market.
Until Point Pickup launch, most businesses have been unable to meet the market's increasing on-demand needs given existing delivery options – traditional services (UPS, FedEx) only run overnight, batched consumer deliveries and new on-demand transportation services (Uber, Lyft) don't support individualized and scheduled deliveries.
Clear Maze was contracted as strategy, business and technology adviser, for project management and software development.
---
Solution
Clear Maze has created an innovative delivery technology solution and software platforms. This Point Pickup Case Study illustrates the solution we have built:
Software platform architecture – entire backbone was built using the latest technologies and host the solution on Amazon AWS Cloud service.
Proprietary API – used by companies to integrate their ordering and fulfillment systems with PPUP's customer-driven delivery app.
Proprietary algorithms – Clear Maze has invested in research and development activities for following challenges:

Precision Matching System – machine learning technology that finds and match the ideal same-day delivery options based on vary requirements.
Best route finder – based on start and end point route, our proprietary algorithm finds the best and cost-effective route between two or more points.
Routes aggregator – solution that helps drivers and companies to combine two or more route into one effective big route for more effective delivery time.
Precision drivers matching – solution for optimizing the volumes and number of packages with driver's vehicles capabilities.
Real time data analytic tool – dealing simultaneous with over 3000 drivers in over 2600 cities, for over 20 big retailers, groceries chains and e-shops creates the challenge of understanding and dealing with an enormous amount of real time data. Our solution, using AWS Big Data capabilities, was to deliver and powerful, real time and easy to use stand-alone platform. Other integrations include, SalesForce CRM and Help Desk ticketing solution.

Custom solutions integrations with following third providers:Checkr for Background records check

Braintree and Stripe for electronic payments and direct settlement
Push notification through OneSignal
Google Maps Platform Integration for direction service, API, GeoJSON utility, maps polygon drawing mobile SDK's.

State of the art mobile application – the app is available for iOS and Android devices with following main users' and drivers' functionalities:Create point-to-point and multi-routed orders

Track orders in real time via GPS
Packages barcode scanning
Indoor location solution
Live chat between users and drivers
Easy drivers enrolment process
ID check process through mobile app
See available orders based on GPS position and other criteria
Accept, perform job and receive the payment direct through app
---
Screenshots
---
Outcome
Point Pickup has radically changed the same-day, last mile delivery industry in past 4 years, becoming the leader in this industry. Developing the solution was a tremendous 4 years development and R&D effort and it is now an on-going improvement and maintaining effort.
In figures, the success is measured in:
Over 3500 enrolled drivers
Over 20 big clients, including Target and Wall-Mart direct integration
Service available in over 40 states and 2600 cities.
More about Point Pickup Technologies here