EU Consumer Rights Case Study
---
Clear Maze was commissioned to create and develop a mobile application to offer full information about the Consumers Rights in a very accessible and structured way.
---
Situation
---
The Consumer Rights Directive gives consumers the same strong rights across the UE and it aligns and harmonies national consumer rules, in all consumers aspects like for example on the information consumers need to be given before they purchase something, and their right to cancel online purchases, wherever they shop in the EU.
In June 2014, when the Consumer Rights Directive entered into application, Directorate-General for Justice and Consumers of the European Commission published a guidance document in all EU languages to facilitate the effective application of the Directive.
At that moment become important the information to be well known and received by consumers using the latest technologies available and among other channels EC commissioned Clear Maze to develop a mobile application.
Solution
---
Clear Maze has created a very accessible mobile application, "UE Consumers Rights", built around the consumers rights, European Institutions and how a customer can submit easily a complain when his rights are violated.
The Consumers Rights mobile app reinforce the basic consumers rights by teaching European citizens what their rights and obligations are, how to manage rights violation situation and how to submit a complain to the appropriate consumer rights authority.
Project Description
---
The Consumers Rights App is an information application. It's a tool that help customers and build the habit to claim their rights when make a purchase or use a service across the UE.
The app is built around the main "know your rights" feature and has integrated a "3 steps form" about how to make a complain. Other features are present, like information about the UE and European Commission, information about the communication campaigns and events across the Europe related to consumer rights.
Tellur Distribution Case Study
---
Creating a powerful, versatile e-commerce platform suitable for Tellur's expansion plans.
Situation
---
Tellur Distribution is one of the major electronic appliances, handsets accessories and smart home devices distributor. His story starts in Romania but he his ambition was to cover entire UE and middle east markets.
The brief was to build an e-commerce platform at latest design and technology standards that can accommodate and be easily accessed the huge number of products and variations for each product.
Also, the brief included the request to develop an easy to manage upload and update products solution, to integrate the e-commerce with their SAP ERP business solution and to create a partner's section for orders, contracts and other deals management.
The Challenge
---
The challenges for the project included the need to move tens of thousands of products, images and variations of products, while simultaneously executing a brand-new platform.
"From the start, we knew that this project would be a significant undertaking due to the vast amount of data, and other development teams past failing with this project. We approached this project with the necessary care and foresight to ensure a smooth migration and an end product that is built on solid technical grounding."

Gabriel Sora, CEO Clear Maze
Why WordPress?
---
Previous Tellur.com website and system were missing many of modern features and development efficiencies needed to scale the platform to the next stage of growth for their brand.
WordPress was quickly identified as the ideal solution because of the ability to create a great experience for multiple products attributes and variations, while also providing an enterprise-grade core platform to make further development more efficient with the goal of maximizing revenue.
Technology Platform
---
WordPress
WooCommerce
ShopGate
HTML/Css/JQuery
Custom Css
Custom portfolio attributes and variables development.
The Obstacles
---
The migration to WordPress faced a few unique challenges. With over 15,000 products and variations in the backlog and tens of thousands of images, media attachments, tags, product specifications and sheets, this migration was also coupled with a full redesign of the website. Plans for new product upload and management features to improve their operational activities were also introduced. The obstacles involved ensuring the migration accounted for the functional requirements while also delivering the brand new, high profile refresh of the brand's online experience.
The Solution
---
Migration
We used Google Cloud Platform to build a highly-scalable import process that handled the transformation of data and images into a WordPress compatible structure without any data loss. This migration process, as is the case with any large migration, was successful because of the time spent on architecting, building, and testing. When the time came to push the migrate button, it ran correctly and efficiently.
Code Quality
With performance, stability and security being the top priorities, code quality was a major priority to set the team up for success in the future. Custom plugins and themes give WordPress its competitive edge. Combined with top hosting solutions, this set the site up for success at launch.
Uploading process
Tellur regularly update the existing products, introduce new products or variation of existing product or discard others. The uploading process needed a custom solution and an interface that would easily facilitate the production. Working with the operational and sales teams to identify the UX requirements, Clear Maze was able to do the following:
Provide ability to number and reorder list items;
Provide a custom focal-point image cropping too
Provide templates based on the focus of each product lists.
Additionally, this solution meat the variable and attributes and images products characteristics.
Outcomes
---
By project completion, Tellur had successfully moved product catalog from their former system over to WordPress and was able to launch the new online expression of their brand with complete confidence. Launch day proved that the focus on code quality and Quality Assurance paid off, with a public release without any hiccups. The business is now positioned to build on its new direction and ambition and move forward into the next phase of growth.
Point Pickup Case Study
Building platform and technology infrastructure, driving demand and establishing thought leadership
the next generation of delivery app and logistics technology.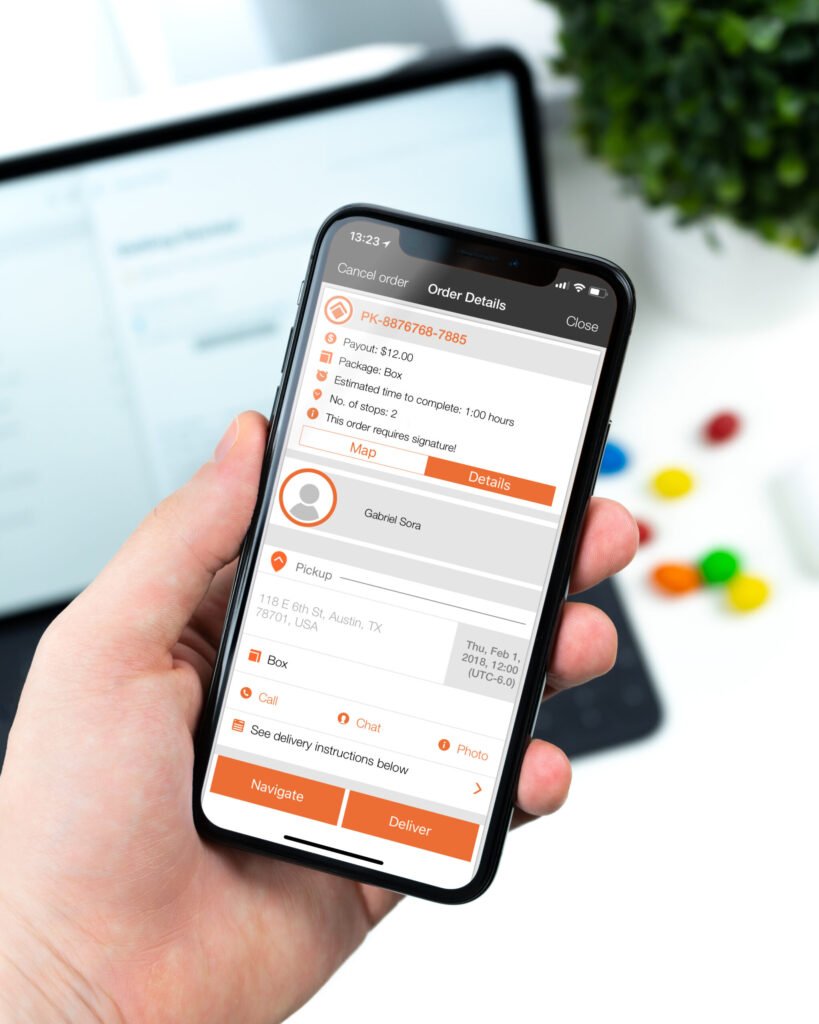 See the Point Pickup Case Study below
---
Situation
As the US On Demand Economy becomes more pervasive, expectations are rapidly changing, turning real-time delivery of products and services from a pipedream into the norm. Demand is moving from wanting items "quickly" to needing them "now." Point Pickup Mobile Delivery App has been the first on-demand option that guarantees scheduled, same-day deliveries anywhere, including the largely untapped and rapidly growing suburban market.
Until Point Pickup launch, most businesses have been unable to meet the market's increasing on-demand needs given existing delivery options – traditional services (UPS, FedEx) only run overnight, batched consumer deliveries and new on-demand transportation services (Uber, Lyft) don't support individualized and scheduled deliveries.
Clear Maze was contracted as strategy, business and technology adviser, for project management and software development.
---
Solution
Clear Maze has created an innovative delivery technology solution and software platforms. This Point Pickup Case Study illustrates the solution we have built:
Software platform architecture – entire backbone was built using the latest technologies and host the solution on Amazon AWS Cloud service.
Proprietary API – used by companies to integrate their ordering and fulfillment systems with PPUP's customer-driven delivery app.
Proprietary algorithms – Clear Maze has invested in research and development activities for following challenges:

Precision Matching System – machine learning technology that finds and match the ideal same-day delivery options based on vary requirements.
Best route finder – based on start and end point route, our proprietary algorithm finds the best and cost-effective route between two or more points.
Routes aggregator – solution that helps drivers and companies to combine two or more route into one effective big route for more effective delivery time.
Precision drivers matching – solution for optimizing the volumes and number of packages with driver's vehicles capabilities.
Real time data analytic tool – dealing simultaneous with over 3000 drivers in over 2600 cities, for over 20 big retailers, groceries chains and e-shops creates the challenge of understanding and dealing with an enormous amount of real time data. Our solution, using AWS Big Data capabilities, was to deliver and powerful, real time and easy to use stand-alone platform. Other integrations include, SalesForce CRM and Help Desk ticketing solution.

Custom solutions integrations with following third providers:Checkr for Background records check

Braintree and Stripe for electronic payments and direct settlement
Push notification through OneSignal
Google Maps Platform Integration for direction service, API, GeoJSON utility, maps polygon drawing mobile SDK's.

State of the art mobile application – the app is available for iOS and Android devices with following main users' and drivers' functionalities:Create point-to-point and multi-routed orders

Track orders in real time via GPS
Packages barcode scanning
Indoor location solution
Live chat between users and drivers
Easy drivers enrolment process
ID check process through mobile app
See available orders based on GPS position and other criteria
Accept, perform job and receive the payment direct through app
---
Screenshots
---
Outcome
Point Pickup has radically changed the same-day, last mile delivery industry in past 4 years, becoming the leader in this industry. Developing the solution was a tremendous 4 years development and R&D effort and it is now an on-going improvement and maintaining effort.
In figures, the success is measured in:
Over 3500 enrolled drivers
Over 20 big clients, including Target and Wall-Mart direct integration
Service available in over 40 states and 2600 cities.
More about Point Pickup Technologies here